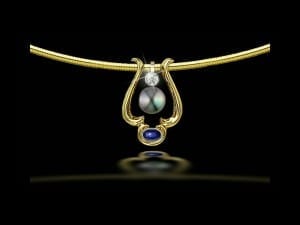 The Pearl is the birthstone for June. At John Wallick Jewelers, in Sun City, Arizona, near Phoenix, AZ we carry beautiful pearls,custom pearl jewelry of the finest varieties and pearl strands perfect for your bride to be.
A pearl strand is the most popular piece of jewelry for a bride to wear on her wedding day with her wedding dress. She may also complement the strand by wearing pearl earrings and a bracelet to match.
A strand of pearls is a must have for a woman. This organic gift from nature is most precious and it complements any outfit in your closet!
How to Care For Pearls:
The care of pearls is relatively simple. You can clean them with a soft damp cloth and dry them off with a soft cloth. However, they are organic so you must use some precautions. Do not get hair spray or perfumes on your pearls. Do take care when putting them away and try to keep them in a box with a soft lining for protection.
How Are Pearls Formed?
Pearls are cultured by introducing a bead or piece of mantle-tissue into a mollusk, being lowered into the water in cages and monitored for approximately four years. Cultured pearls form just as natural pearls do, i.e., layers of nacre form around the irritant. The main physical difference in the finished pearl is the size of the nucleus. Learn more about how pearls are formed.
What is the difference between a natural pearl and a cultured pearl?
The only difference is in the nature of the nucleus around which the pearly substance forms. In natural pearls, sand particles or other foreign objects form the center and the oyster produces a nacreous layer to coat the foreign object to make it smooth. In cultured pearls, an artificial nucleus of shell is inserted into the oyster. The pearl forming process of both is identical, whether it is natural or man-made. Nacre begins to form layers of the precious bead.
Pearl Varieties:
Akoya or Japanese pearls come in a variety of colors; pink, silver, cream, gold, green and blue. Black pearls come from the black-lipped pearl oysters.
Fine pearls should have a smooth surface with very little blemishes and good luster. Pearls that look heavy will have a thick layer of nacre and should have lasting quality.
Seed pearls are genuine pearls used mostly for decoration of a piece of jewelry. They are round very tiny pearls with good luster.
Freshwater pearls are formed by inserting a nucleus in freshwater mussels. They are more reasonable than cultured pearls, but make very nice strands at a reasonable price point.
The oyster can secrete two to seven layers of nacre a day depending on the season and the water temperature.
Did You Know?
When you see a fine pearl strand, it is knotted in between each pearl with silk thread. The knots and the silk thread prevent damaging the pearls.
Famous Pearls
Famous pearls and pearl jewelry include the Abernethy Pearl, a 44-grain extraordinary freshwater pearl discovered in the River Tay in Scotland, La Peregrina Pearl, this was once known once as the Phillip II pearl and it was the most celebrated pearl of its time, 1969, it was purchased by actor Richard Burton as a gift for his wife, Elizabeth Taylor. The world's biggest pearl is the Beauty of Ocean Pearl. Unveiled in China it weighs six tons, is five feet high and is the biggest man made pearl in the world. View the top 10 most expensive pearls in the world.
Pearls go with everything! No matter what you are wearing, you can throw on a strand of pearls and it looks great and you are right in style.
Every woman needs pearls to complete their jewelry collection. Choose from pearl pendants, pearl earrings, pearl rings and pearl strands.
John Wallick Jewelers in Sun City near Phoenix, Arizona, can help you pick out the ideal strand of pearls. We guarantee that it will be a wonderful addition to your jewelry collection.
We are located on the northwest corner of 99th Avenue and West Bell Road, just 5 minutes west of Loop 101 in Sun City, Arizona near Phoenix, AZ. Visit us on our website – www.johnwallickjewelers.com, call us at 623-972-1000 or email us atj.wallick@hotmail.com